May 15, 2017 - 26 views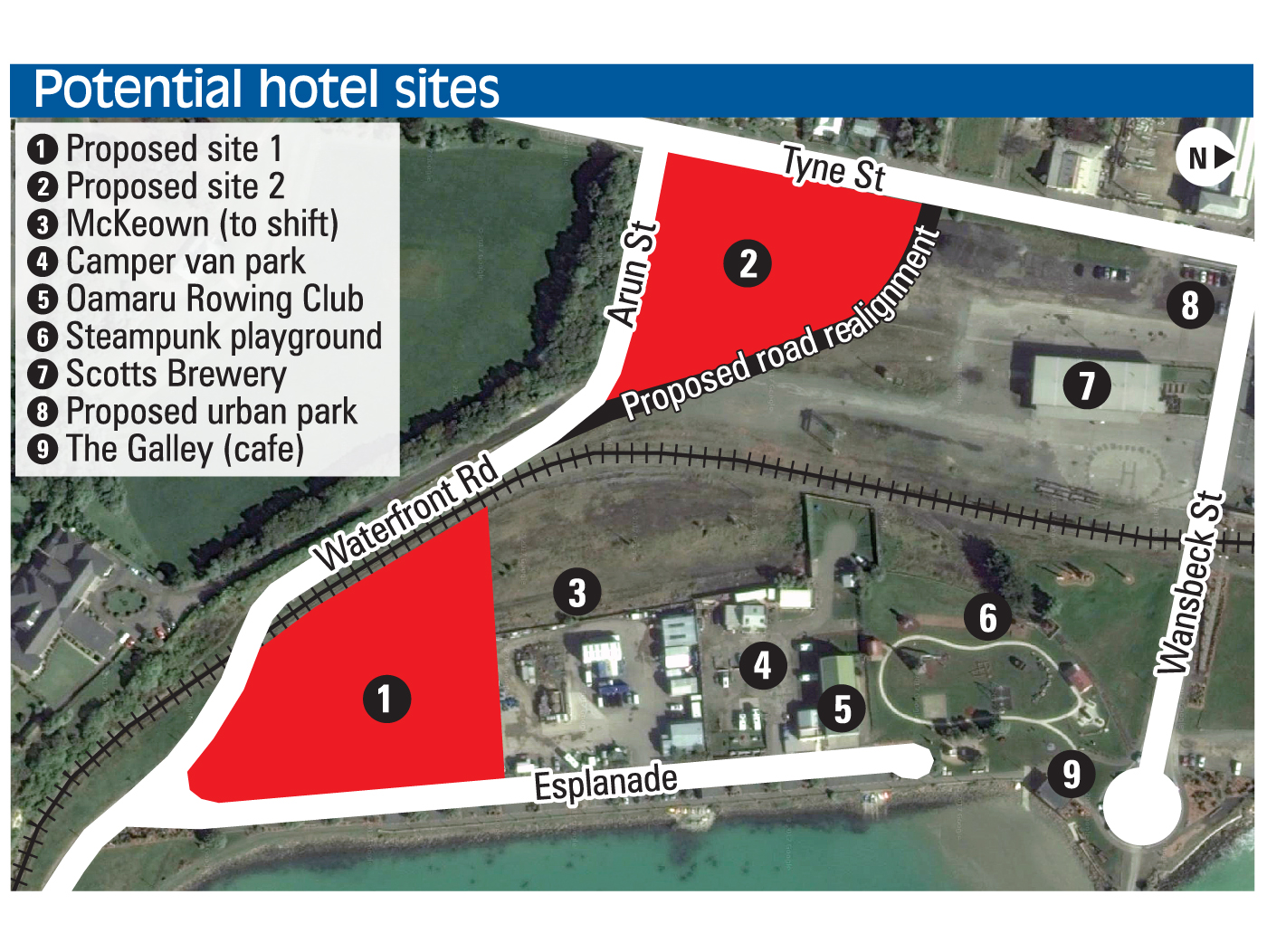 Two hotels could be built on Oamaru's waterfront as the council moves to free up harbour-front sites for new accommodation.
Waitaki district councillors heard this week six groups had already made unsolicited approaches to the council, expressing interest in building hotels, motels or apartment accommodation on the waterfront.
The council is proposing to move Arun St to free up potential building sites at the harbour and has produced a document that shows the two proposed sites for accommodation developments — one directly on the waterfront at the Esplanade, and one behind it on Tyne St.
Councillors this week unanimously voted to release an expression-of-interest document to formally request ideas from potential developers.
Waitaki Mayor Gary Kircher said he wanted to see potential developers who would be able to demonstrate how they were going to bring in tourists, or "grow the pie".
"I'm keen to see something that helps enhance Oamaru's reputation."
He was not interested in a "cookie-cutter motel".
"We're just trying to get a situation where we've got something that complements what's already there," Mr Kircher said yesterday.
"But we're open to whatever comes forward. And it gives us the opportunity to really see what people are wanting to do.
"It's going to be their money. We're not pretending to be the experts in what they should do — but if we can tick the boxes of what we want, too — that's what we're aiming for."
The report to councillors recommended "keeping the community informed of progress".
Cr Jim Hopkins argued successfully the results of the "[expression of interest] process" should also be reported to the council.
He said the public debate surrounding Dunedin's latest five-star hotel bid, in Moray Pl, showed canvassing the community had "some merit".
"You can't do something like this as a popularity contest," Cr Hopkins said.
"But what I think you can do is find some way to get some form of community feedback."
He said "given the huge public enthusiasm for the area" the council should explore ways to possibly publicise drawings, or the themes designs might express.
"Look, I just think there's some merit in it, and if you look at the push-back over both the hotel designs in Dunedin, getting some kind of public buy-in earlier on in the process rather than later when people are presented something as a fait accompli might be a good idea. And we shouldn't rule it out."
Mr Kircher said he wanted to ensure the community was given "every indication of where things are going just as soon as we possible can".
'We don't want to get into a situation where it's designed by committee," he said.
"But it's really important ... there is a lot of interest in what happens there."
Council assets manager Neil Jorgensen's report to council says the council is a "major land owner of undeveloped land in the harbour area".
The background work for the accommodation idea had been done in line with work prescribed in the council's 2011 Harbour Strategy.Cr Melanie Tavendale said seeking interest was a "first step".
"We don't have all the ideas around this table."
But it was important to "show off the council's thoughts".
To seek expressions of interest did not bind the council. Constraints could come later.
Cr Peter Garvan said the land was "highly strategic" and development provided an "exciting" opportunity.
"We want exciting proposals, or we'll sit on the land," he said.
Mr Kircher did not respond to a question about who the six parties that had already expressed interest were.
The council's annual plan consultation documentation, released earlier this year, said Arun St was being moved for safety reasons.
Credit: Otago Daily Times